Details

Published: Tuesday, 13 August 2019 13:52
New Brighton is hoisting the flags ... 'Come and join us in Pirate Town.'
The New Brighton Pirate Fest - The Battle for Devil's Nest -  is a swashbuckling extravaganza setting sail on the weekend of August 17 and 18.
This free, two-day attraction celebrates the history of pirates and much more, including two stunning stars of the sea taking part - a pair of specially created galleons. One will lead the parade and become our entertainment stage. The larger craft will be at the centre of the much-awaited cannon battle.
Organisers have put together a fabulous free weekend of diverse fun events for every member of the family. A Fest for all ages.
Coordinator, Cathy Robert says: "Business and community groups have pulled out all the stops to show New Brighton at its very best.
"We're also particularly thrilled by the wonderful woodworking talents of Wirral Met College students who have worked tirelessly to create our wooden cannon trails."
Dan Davis, of main sponsors RockPoint Leisure says: "We are putting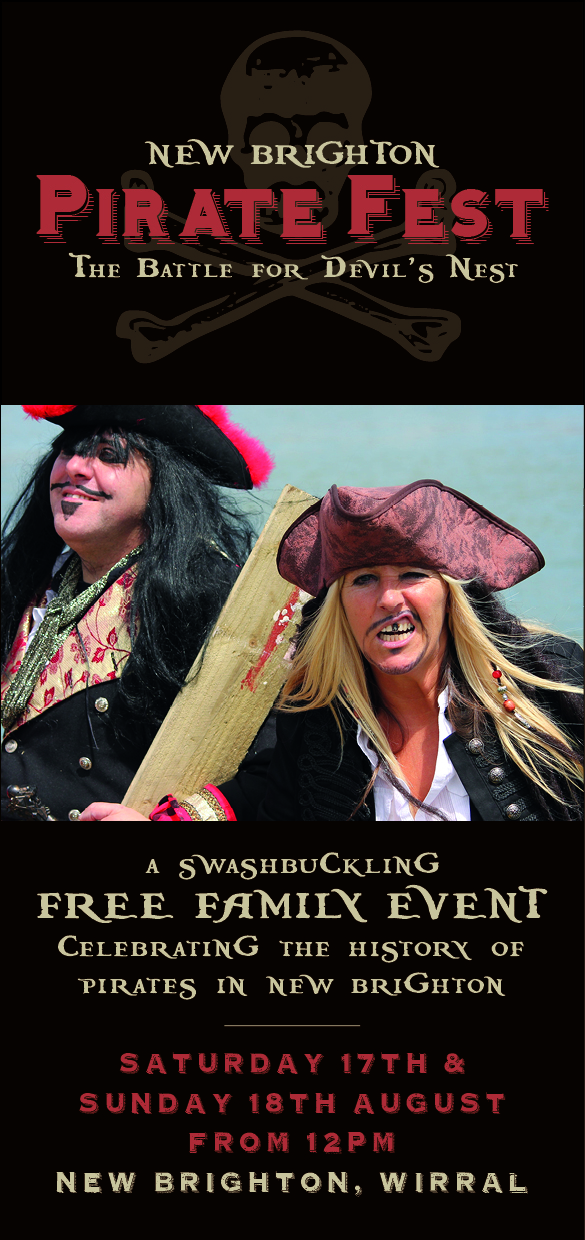 New Brighton on the map again. The whole pirate package is something that will capture the imagination of everyone - young and old. It is an exciting celebration with the emphasis on families and fun. People are invited to dress up or just come as they are and enjoy every aspect of the Fest."
Special attractions include a pirate and mermaid parade as well as cannon, musket and sword-fighting displays and inter-active workshops.
Music fans can hear live local bands while children can take part in the face painting and Lord Rockpoint's Treasure Trail. There is also a wide range of food and drink to enjoy throughout the Victoria Quarter in addition to the promenade favourites.
Themed games include Walk the Plank; Peg A Pirate; Message in a Bottle and No-Lose Treasure Tombola. There is plenty of storytelling to be had - featuring real hair-raising historical tales.
And celebrities are on board, too.
Stage and TV star Eithne Browne will be become the legendary Mother Red Cap offering her own brand of "Investment Advice."
The actress says she is looking forward to getting out and about and sharing plenty of selfies.
And broadcaster Billy Butler a one-time star of TV's iconic Mersey Pirate show who will be the compere of the Best Dressed Pirate awards.
The former Radio Merseyside presenter will also be providing live commentary for the Pirate Battle - the black powder re-enactment in front of Fort Perch Rock with cannon exchange and musket fire between the two-specially constructed ships.
Captain Butler says: "Other pirate festivals won't be a patch on this one. The galleons especially have to be seen to be believed - eat your heart out Jack Sparrow."
The event starts with the opening parade on Saturday at 11.30 from outside Fort Perch Rock.
Wirral borough of cultural ambassador, OMD's Andy McLuskey, has endorsed the event by giving his full support. 
He said: "As a Wirral resident and someone who loves history and the rich culture of the area, I am looking forward to the weekend. I fully back any event which celebrates our rich maritime history and culture and that certainly includes pirates."
Dan Davis added: "We make no skull and crossbones about it - we want to capture your imagination here on our very own treasure island - New Brighton."
Mike McCartney, also a Wirral Borough of Culture Ambassador says:
"I've heard that the local event NOT to miss this year is the 'New Brighton Pirate Festival me hearty!It's 2 Days of Fun & Frolic on August 17 and 18 from 12pm. Not only is it FREE with Family Fun Events...of Parades, Battles! and a specially made Galleon! but the Narrator is the One & Only.....Billy Butler!....DON'T MISS!! Mike McGear McCartney"
For full itinerary and further information access: New Brighton Pirate Fest Facebook page.
Contact:          Cathy Roberts 07914737887