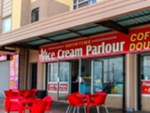 Phone: 0151 647 3800
Address: The New Palace, Marine Parade, New Brighton, CH452JX
Farmhouse dairy ice cream made from Jersey milk and double cream in a wide range of flavours and in 1-3 scoops. Also lollies, doughnuts (sugared or iced), and candy floss...
Phone: 0151 639 5236
Address: 7 Grosvenor Road, New Brighton, CH452LW
Traditional town centre pub featuring a long front bar. Opening Times. Mon to Thu and Sun11-12.30am, Fri to Sat 11 - 1am.